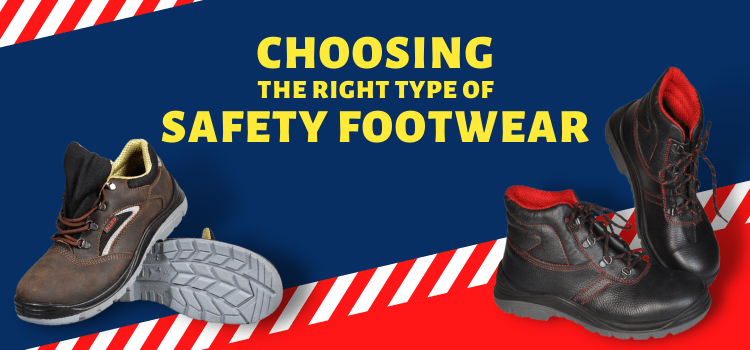 Safety Footwear, as the name implies, is an important part of the Personal Protective Equipment kit. While working in hazardous circumstances, it becomes crucial to protect your feet like you protect other body parts. May it be a greasy or wet floor or working with heavy machinery and electrical wirings; safety footwear protects us from all types of foot injuries. 
Safety footwear bought from safety shoes suppliers in Mumbai are either:
Anti-skid or,
Anti-perforation or,
Anti-static or
Fire-resistant.
Several Types Of Safety Footwear To Choose From
Safety shoes should be worn by all the workers working in hazardous work environments, irrespective of the industry type to protect themselves from foot injuries. But every work requires you to wear different types of safety footwear according to the nature of the work. Let's see the various types of safety shoes used extensively across all industries –
Safety Toed Shoes – 
Safety shoes which have a toe cap made of steel, alloy or non-metal substance are included in this category of safety shoes. These types of shoes are useful when your work involves riding bikes, trucks or any other heavy vehicle. The safety toed shoes supplied by safety shoes suppliers in Mumbai cover your toe area thus, safeguarding your feet from getting injured.
Metal Instep Footwear – 
The upper surface of your foot is the area which is most exposed to risk of getting foot injury. The metal instep footwear provided this safety to your feet by strengthening your safety shoes with a metal layer. Metal instep shoes are necessary to protect your feet from injuries that may be caused due to:
Heavy falling substances particularly in underground mines.
Honed piercing objects like nails and blades.
Accidents at construction sites where heavy objects like boulders, bricks or slabs fall and crush the foot.
Chainsaw injuries which are caused during logging
Heavy debris
Huge broken glass pieces, etc.
An overall protection is provided to your foot from all types of blunt force trauma. By wearing metal instep footwear.
Steel Insole Shoes – 
These types of safety shoes help you to keep your foot intact and prevent its movement too much thus, helping in avoiding bone and joint problems. The steel insole shoes are considered to be one of the most comfortable safety footwear of all. Those workers who have to ride bikes, heavy trucks or push pedals tend to suffer from joint and bone problems. The steel insole shoes protect their feet by keeping it steady and doesn't allow it to move much.
Metatarsal Shoes – 
Metatarsal shoes are like steel toed shoes only which protects feet against compression injuries. It's just that they give additional support and protection to your metatarsal joints and bones. If any heavy object falls on your foot, will it just hit your toes? No. Most likely it can fall on the other parts of your foot as well. For the same reason, metatarsal safety shoes were invented. Because, the protection area should be extended and should cover the full feet and not just the toes. These shoes are also known as drop hazards. These shoes are mainly designed to protect the metatarsal joints and bones located in the upper part of the foot from injuries caused by falling of heavy objects on foot.
Electric Hazard Shoes – 
Electric hazard shoes are the safety shoes which provide protection against electrocution or electrical shocks. The working principle of these shoes is pretty simple, their entire sole is made of non-conductive material which does not allow electrical current to pass through your body. It's because the non-conductive material makes your body secluded from the electrical charge and hence you don't get an electric shock.
Now that we know which type of safety footwear is suitable for what type of work, let's also understand the factors which should be considered while buying these safety shoes.
Factors To Be Considered Before Buying Safety Shoes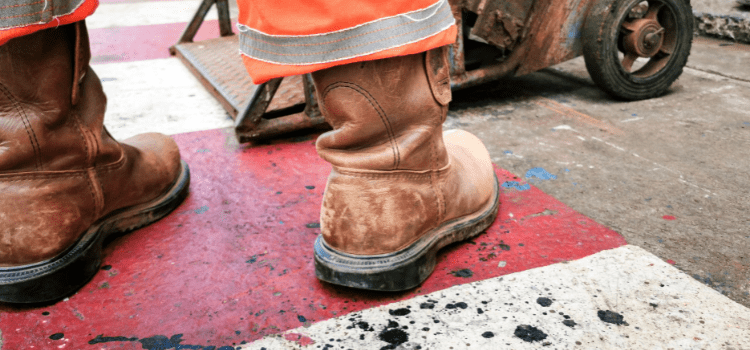 Nonetheless, there are a couple of variables that ought to be remembered at the hour of purchasing security shoes.
 1. Security Assurance: 
This is perhaps the main element to check out while buying a couple of safety footwear from safety shoes suppliers in Mumbai. Shoes ought to shield the feet from injuries. For foot protection, Shoes should be a mix of metatarsal guards, great sole material, security toe covers, and steel plate bottoms. To put it plainly, the general materials utilized for assembling safety shoes ought to be adaptable, solid, and tough.
 2. Comfort Level: 
As you most likely are aware these shoes are fabricated for development and construction industries. Along these lines, they should be agreeable to wear. Ensure when you purchase safety footwear from a safety shoes dealer in Maharashtra, they should have a suitable space for toes, there ought to be no squeezing and cramping of the toes. These shoes should offer satisfactory help in the curve and heel. Safety shoes should be suitable for a warm and cool environment. In the wake of wearing these shoes, your feet as well as your hips, knees, and lower back ought to likewise be adjusted.
 3. Proper Fitting:

Fitting of shoes is additionally vital. The instep should fit comfortably and ought not be fixed. If not, it would result in over the top slipping. The wad of the boot should fit the ball of the foot. Generally speaking, shoes should give a decent grip.
 4. Outsole Offerings:
We frequently center around insole safety measures. Yet, we disregard outsole highlights. Likewise, great safety shoes should have amazing outsoles. They should give superb protection from heat, synthetics, oil, gas, chips, stamping and slipping. At the point when you face conditions like a perilous temperature, an outsole should be a life saver for you.
 5. Value: 
The expense incurred on safety shoes bought from safety shoes dealer in Maharashtra is additionally a significant component. The cost of shoes should match with its qualities. It is advised to buy it from a reliable brand rather than from any modest and local brand.
These are a couple of things that are critical to know prior to purchasing safety shoes.
Assuming you are willing to purchase safety shoes for your work environment, contact us for further queries.