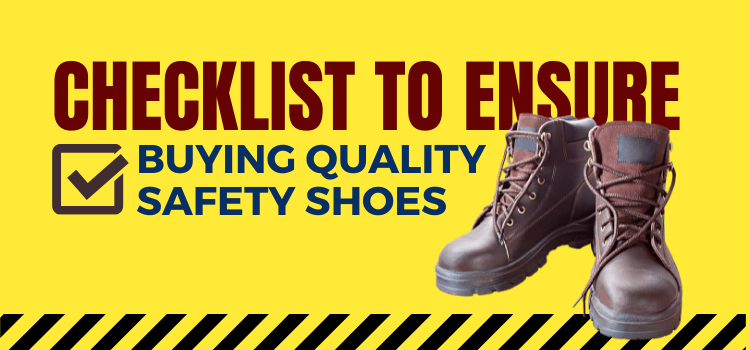 According to the Factories Act 1948, an entrepreneur must ensure the safety, welfare and health of the employees working on his factory premise. Use of PPE (Personal Protective Equipment) is compulsory for employees working in industries and the construction sector. The PPE kit mainly has 5 types of safety equipment to protect different body regions – respiratory, hearing protection, eye protection, foot and hands protection. These personal protective equipment can be categorized as Aprons. Gloves, N95 Masks, Face shields, Fire suits, Safety shoes, etc. Safety shoes are a crucial part of PPE kit.
Significance Of Industrial Safety Shoes
Safety shoes (better known as safety boots) are a pair of shoes specially designed to be worn by workers in industries to avoid accidents and health hazards. These shoes are generally made of leather. Leather being strong and durable, protects the foot from injuries. These shoes are steel toed for protecting feet.
These shoes are worn to protect foot from:
Falling of heavy objects on foot,
Slippery surfaces,
Dangerous chemicals,
Sharp and pointed edges,
Hot materials and objects,
Splinters,
Electricity flow and
Bad weather.
Allen Cooper Safety Shoes are made of sturdy material and have well padded soles to protect the feet from fatigue and to give maximum comfort to the workers. These shoes are designed keeping in mind the hot and harsh working conditions in industries and factories. For the same reason they are inlined with moisture retention material to minimise sweating and to keep the feet dry for a better grip.
How To Quality Check Safety Shoes Before Buying?
Before buying the safety shoes it's very important that you are aware of the parameters which should be considered before buying them. Following criteria must be kept in mind while buying safety shoes:
Certification –
Checking the EN Certification of the safety shoes is important to ensure that the shoes are of quality and made keeping in mind the safety standards. For quality check of safety shoes, there are 2 main standards – ASTM 2413 & EN ISO 20345. If you buy safety shoes which are certified by any of these 2 standards then you can be assured that they are safe to be used.
Specifications of Safety Shoes –
Certain properties are to be kept in mind before choosing safety shoes. All allen cooper safety shoes have unique characteristics which makes them suitable for different uses. Like, the unique feature of the cut-resistant shoes is to safeguard specific delicate parts of the foot like the metatarsal. Other specifications which can be considered are:
Antiskid
Electrically insulated
Cut resistant
Hot surface resistant
Ankle protective
Antistatic
Water resistant
Heat resistant.
Selection Of Correct Sole Type –
Different types of work demand different use of feet. So, it becomes important that the workers are made to wear safety shoes with soles suitable for that particular type of work. For example, in the construction sector, workers are required to lift heavy objects and so they should wear safety shoes with PU soles which give them comfort, are lightweight and absolutely safe. Workers working around high temperatures should wear safety shoes with rubber soles.
Classification Of Various Safety Shoes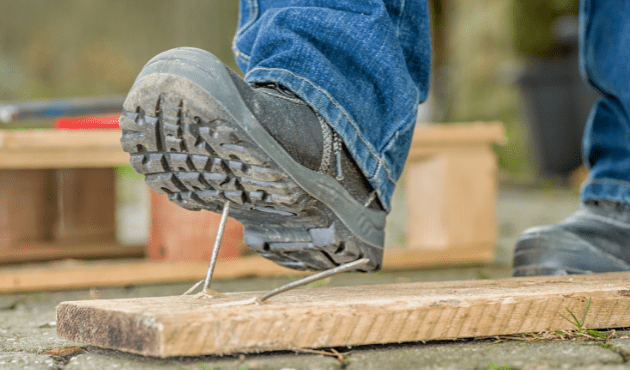 Safety shoes can be broadly classified under the following categories:
Gumboots –
These shoes are best suited for work in muddy or wet areas. The length of these shoes vary between 13 to 15 inches covering your legs from knee to toe. They can also be used in chemical industries to protect workers' feet from unforeseen chemical splashes. Fire stations, fisheries and cleaning industries also use gumboots.
Safety Shoes With Steel Insole –
Industries which demand driving heavy vehicles or bike rides use these types of safety shoes. There is a steel lining in the sole of these shoes which gives high comfort and supports the movement of feet which in turn helps in safeguarding bones and joints against any problem.
Metal Instep Safety Shoes –
These shoes are extensively used in glass industries. These industrial safety shoes protect the feet from injuries due to sudden penetration of sharp metal objects or glass pieces. They give a solid protection to feet against pointed objects.
Electric Hazard Safety Shoes –
The sole of these shoes is designed in a way that it protects feet against electric shocks. These shoes are best suitable for workers working in areas with high voltage currents flowing throughout. Workers working on electrical circuits and wires must wear these shoes that are manufactured by top safety shoes manufacturers in India.
Metatarsal Safety Shoes –
Areas that involve handling heavy-weight objects such as the construction sector or heavy machinery industry makes use of these safety shoes. There is steel inline over the toe which protects the feet against the fall of any bulky object on the feet.
Safety Toed Safety Shoes –
These are the most commonly used safety shoes across all industries. These shoes have a special metal covering over the toe which gives protection against any injury. Most of the industries, factories, and mills use this type of safety shoes for their workers.
Armstrong is the most trusted name in the field of manufacturing of industrial safety shoes. We offer an extensive range of safety shoes for different industries across India. Choose us to serve and protect you!